More Hearthstone Beta Keys
[sc:cm]
Update: another round of hearthstone beta key invites have been sent out!
For those who have not gotten their Hearthstone Beta yet, there is another wave coming out!
via Hearthpwn
Hearthstone Beta Keys Going Out to Battle.net Desktop App Closed Beta Participants
Blizzard has started sending out emails this evening with Hearthstone Beta keys to those who have helped beta test the Battle.net Desktop Application during the closed beta phase (prior to 8/14). If you downloaded, installed, and logged into the app during the closed beta period, you're going to be getting a key!
If you already have Hearthstone on your Battle.net account, spread the love to a friend who doesn't have it.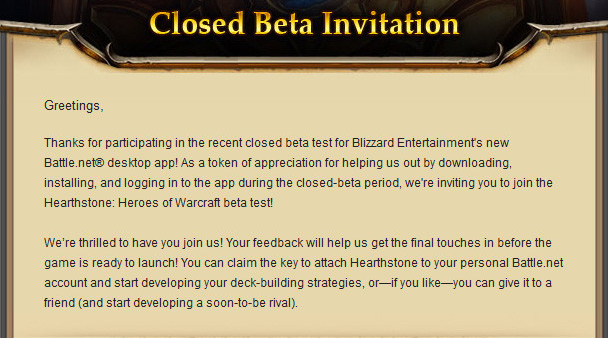 Hearthstone Opt-In Waves for North America and Europe
After a bit over a week of no opt-in waves, Blizzard sent out a wave for North America, and a wave for Europe this evening. Check your email inbox associated with your Battlenet account to see if you got in. If you weren't one of the lucky ones this time around, keep reading!
Originally posted by Blizzard (Blue Tracker / Official Forums)A wave of invites for the EU Hearthstone region has gone out and should conclude within the hour.

A wave of invites for the North American Hearthstone region has gone out and should conclude within the hour.
Hearthstone Team Job Openings
2 new artist jobs now open on the Hearthstone team! Check it out at the bottom left of this page. – Ben Brode (Source)
Ranked Play Changes
Exciting changes are coming to Ranked Play in Hearthstone!  Our new system makes your path to move up in the rankings more transparent, and gives top-level players more ways to differentiate themselves from each other.
Each month, all players restart at Rank 25: "Angry Chicken"
Players will be matched against players of similar rank.
Win a game, acquire a star!
Acquire enough stars and you'll rank up!
Each rank has its own icon and medal.
Win streaks may give additional stars.
At higher ranks, you'll lose a star if you lose a game.
Beyond Rank 1 is a special rank: Legend.
Once you hit the Legend rank, it cannot be lost until the season ends.
Legend rank will have a big number in the middle of the icon – this tells you your exact rank in your region!
This won't be ready at the launch of our new ranked system, but eventually, if you participate in ranked play during a season, there's a reward awaiting you: Special card backs!
Card backs are acquired through participating in a ranked play season.
Each month holds a new card back for your collection!
One of the most exciting reasons to try Ranked Play is the epic Golden Heroes. After you've played 500 Ranked games with a specific class, you unlock the animated golden hero for that class. Whenever you play that class, it'll automatically be the golden version of the class rather than the regular one. Each Golden hero has its own special animations, just like the other Golden cards!
Hearthpwn also has the results (and it seems the decks) of the first ever Hearthstone Invitationals Tournament: http://www.hearthpwn.com/news/199-blizzcon-2013-recap-open-beta-iphone-android
e.g.
http://www.hearthpwn.com/decks/16127-innkeepers-invitational-artosis-the-artosis-curse
[Innkeeper's Invitational] Artosis – The Artosis Curse
[sc:prepost]