Dota 2 Upcoming Diretide and Economy Patch Changes
[sc:cm]
New Bloom Festival is out!
Want to know more about the twin scythes of ice and vyse? Or the snowglobe dota items?
Want to learn more about dota 2 microplushies and lockless luckboxes?
Update: frostivus 75% discount and wraith night replacement
Diretide Update: I've dipped into a few games of diretide!
Luckless lockboxes have taken quite a price hit.
Markets are back up
Cyborg matt has a pretty comprehensive datamine: http://www.ongamers.com/articles/dota-2-14th-november-patch-content-analysis/1100-122/
(he's at ongamers now)
They have even shut down the market listings! But I guess trading goes on in the other domains.
November 13, 2013 – Dota Team
Here we go!
The latest Dota 2 update introduces the three amigos: Ember Spirit, Storm Spirit and Earth Spirit, and features like Crafting, Coaching and the givin' of the Diretide.
You can visit the Three Spirits Update page for more info by clicking the image below.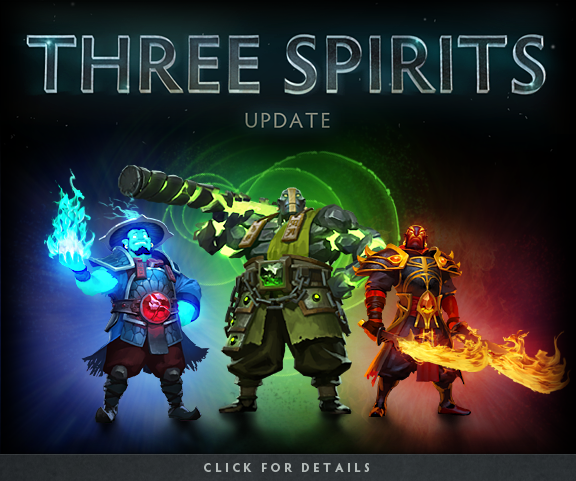 The update should be hitting the Test client any second now and your regular Dota 2 client tomorrow.
Get more out of your unwanted items! Use a Polymorph Recipe to transform several items of the same rarity into a whole new item, or try out an Augment Recipe to combine duplicate items into a single item of a higher rarity. Collect Recipes by playing, or by opening Ancient Scroll Cases — where you can find Polymorph and Augment Recipes, or even rarer Recipes that generate exceptional items.The requirements to complete a Recipe can vary greatly, so keep an eye on the Steam Community Market.
Got a favorite item? Personalize it even further by adding sockets and gems. Insert a Kinetic Gem to add unique animations to your favorite sword, or grab your most prized courier and add an Ethereal or Prismatic Gem to show off new colors and effects. Get your favorite team to sign your tournament item with their Autograph Rune, and throw an Inscribed Gem in there as well to show off your best hero stats. Indecisive? Good news! Each item can hold up to five gems.
Player Items
Created in collaboration with professional players, the new Player Items are the perfect way to support your favorite player. These items will keep track of Tournament games featuring your chosen player. Wear them to show the rest of the world which pro player you favor most.
http://blog.dota2.com/2013/11/three-spirits-update/
Economy
Steam Community Market

This update may greatly disrupt market prices. In order to prevent items being purchased at pre-update prices for arbitrage, we are removing all item listings and returning them to their owners. While this removal process is taking place, new items will not be able to be listed on the Steam Community Market.
You can now list an item on the market from the armory (right click: sell on the market).
Armory item tooltips now contain the current lowest trading price for an item of the same class as the one highlighted. (Class is a somewhat flexible concept at the moment, so unusual courier prices will be less accurate than a specific wearable piece of equipment.)

Crafting

Crafting recipes now have a chance of dropping as a bonus item. These drops do not take up your normal drops, but are in addition to them.
Polymorph Recipes

These recipes take a variable number of any input of the same rarity and output a random other item of the same rarity. Example: 2 of Any Rare => 1 Random Different Rare

Augment Recipes

These recipes take a combination of inputs of the same rarity and output a random other item of the next best rarity. Example: 1 of Any Common & 1 Wavecrester => 1 Random Uncommon

Ancient Scroll Case

A new type of Treasure Chest called the "Ancient Scroll Case" has been added. These cases drop multiple recipes when they are opened.
The Ancient Scroll Case has a chance to drop an Exceptional Recipe. These make items that were previously only available as Genuine quality promotional items. The recipe creates a non-genuine version of the item.

Gems & Sockets

Items can now have up to 5 sockets.

A socket can receive a gem. Each socket can only contain one gem.
Some sockets require specific types of gems.
When a gem is added to a socket that already contains a gem, the previous gem is destroyed.

New Socketing Tools:

Artificer's Chisel: Adds a socket to an item.
Artificer's Hammer: Extracts the gems from an item.

Gem Types:

Kinetic Gems

Adds a new animation to the hero using the item.

Inscribed Gems

Adds stat tracking ability to the item similar to the old strange system.
The item they are added to changes to the "Inscribed" quality.

Ethereal Gems

Adds a particle effect to the item.
All unusual effects can now be colorized.

Prismatic Gems

Colorizes the particle effect on the effect gem.

Ascendant Gems

The Ascendant Orb, Gem of Taegeuk, and Bloodstones are now Ascendant Gems.
The item they are added to changes to the "Ascendant" quality. (in addition to tracking victories or gifts given as they did before).

Autograph Runes

Autographs are now Autograph Runes.
Allows you to tag an item with a pro player's autograph.
Since an item can have 5 sockets, you can now get a whole team to autograph an item.
The item they are added to changes to the "Autographed" quality.

Spectator Gems

Items that previously tracked 'games viewed' now contain spectator gems.
Spectator gems follow a specific league or team.
Styles that previously required 'games viewed' now require a gem with the same number of games viewed (for the correct league / player / team / etc).

Ethereal & Prismatic gems are used together on unusual items (couriers).
More types of gems will be coming in the future.
Unusual items do not change quality when gems are added. Non-unusual items will change in the order gems are added.

Item Quality Keywords

The item quality keyword "Vintage" has been changed to "Elder".
The item quality keyword "Tournament" has been changed to "Heroic".
The item quality keyword "Haunted" has been changed to "Cursed".
The item quality keyword "Strange" has been changed to "Inscribed".

Strange Items

Strange modifiers on items have been converted into stat tracking Inscribed Gems.
The stats on items are no longer wiped when an item is traded.
Strange modifiers that haven't been applied have been turned into 'gem packs' that grant a living stat tracking gem and a Artificer's Chisel to create a socket on an item.
Previously strange quality items are now have the inscribed quality.

Unusual Paint & Colors

Unusual paint items have been changed into Gem Packs that will grant a gem of the same color of the old paint item when used.
All couriers that were painted in the past will now have color gems already installed of the appropriate color.
All legacy courier colors (very old drop colors, bugged colors, etc) have been preserved as color gems. If you want, you can smash the courier to recover the legacy color gem and use it on some other courier or effect combination.
All unusual paint items on the Steam Community Market have been delisted. You can relist the Color Gem Packs.
All non-legacy colors (colors that drop normally from Treasure Chests) now have specific names (i.e.: "Verdant Green"). Legacy colors will have the name "Legacy (R G B)". (Most Legacy Colors are completely unique, but there are a few where more than one of that color exist.)
New colors will appear on Treasure Chest unusuals from time to time moving forward. While we will avoid selecting legacy colors we cannot completely guarantee that new colors will not sometimes be similar. The 800 or so unique legacy colors in existence cover a large amount of color space.
New Bloom Festival is out!
[sc:prepost]